Volume 1
Volume 2
Volume 3
Assay for -Galactosidase in Extracts of Mammalian Cells
(Protocol summary only for purposes of this preview site)
This protocol contains several methods for the detection of -galactosidase expressed from reporter vectors that have been transfected into mammalian cells. The first assay is both simple and rapid and can be performed using a visible light spectrophotometer. Note that several manufacturers sell relatively inexpensive kits that can be used to assay -galactosidase in eukaryotic cell lysates (e.g., -Galactosidase Reporter Gene Activity Detection Kit from Sigma-Aldrich; -galactosidase assay kits from Life Technologies). Many of these kits contain the same buffers listed here and adhere closely to the protocol. However, some kits gain a distinct advantage by containing a cell lysis buffer, which allows multiple enzyme activities to be assayed, including -galactosidase, CAT, and luciferase (e.g., -Galactosidase Enzyme Assay System with Reporter Lysis Buffer from Promega). The additional protocol Chemiluminescent Assay for -Galactosidase Activity describes the use of a luminescent assay for the detection of -galactosidase in eukaryotic cell lysates. This method is equally if not more popular than the colorimetric method owing to the sensitivity of enzyme detection and suitability for high-throughput applications. Again, several companies market kits that include a luminescent substrate for -galactosidase (e.g., Beta-Glo1 Assay System from Promega; Luminescent Beta-Galactosidase Detection Kit II from Clontech).

Save 30% & Get Free Shipping!*
Save 30% at checkout on our website.
(Limited time special offer.)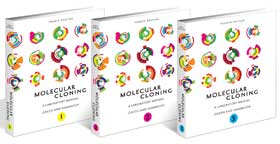 Search for information about other protocols included in the book:
Read What Others Are Saying About Molecular Cloning:
* Free shipping to individuals in U.S. and Canada only