Volume 1
Volume 2
Volume 3
The Hanahan Method for Preparation and Transformation of Competent E. coli: High-Efficiency Transformation
(Protocol summary only for purposes of this preview site)
Starting in the 1970s and continuing to this day, many variations on the basic technique of bacterial transformation have been described in the literature, directed chiefly toward optimizing the efficiency of transformation of different E. coli strains by plasmids. The variations include using complex cocktails of divalent cations in different buffers, treating cells with reducing agents, adjusting the ingredients of the cocktail to the genetic constitution of particular strains of E. coli, harvesting cells at specific stages of the growth cycle, altering the temperature of growth of the culture before exposure to chemicals, optimizing the extent and temperature of heat shock, freezing and thawing cells, and exposing cells to organic solvents after washing in divalent cations. Using these treatments and others, it is now possible on a routine basis to achieve transformation efficiencies ranging up to 109 transformants/g of superhelical plasmid DNA (for reviews, see Hanahan 1983; Hanahan et al. 1991, 1995; Hanahan and Bloom 1996; Hengen 1996).

Save 30% & Get Free Shipping!*
Save 30% at checkout on our website.
(Limited time special offer.)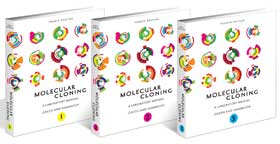 Search for information about other protocols included in the book:
Read What Others Are Saying About Molecular Cloning:
* Free shipping to individuals in U.S. and Canada only