Volume 1
Volume 2
Volume 3
Isolation of Total RNA from Zebrafish Embryos and Adults
(Protocol summary only for purposes of this preview site)
This protocol, which uses a monophasic lysis reagent, is a rapid method for isolating high-quality total RNA from multiple samples. The protocol is a general procedure that can be used for isolating RNA from zebrafish embryos at any developmental stage. Embryos can be lysed directly in the monophasic lysis reagent without prior dechorionation. Typical yields from 25 6-hpf (hours postfertilization) embryos are 58 g of RNA; 1015 g of RNA can be isolated from 25 24-hpf embryos.

Save 30% & Get Free Shipping!*
Save 30% at checkout on our website.
(Limited time special offer.)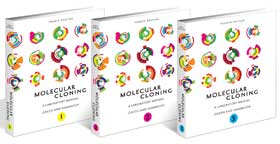 Search for information about other protocols included in the book:
Read What Others Are Saying About Molecular Cloning:
* Free shipping to individuals in U.S. and Canada only