Volume 1
Volume 2
Volume 3
Megaprimer PCR-Based Mutagenesis
(Protocol summary only for purposes of this preview site)
The megaprimer method is a really simple and versatile approach that can be adopted to create a single mutation in a specific target region as well as to create site-specific insertions, deletions, and gene fusions (see Fig. 1). This method uses three oligonucleotide primers, two rounds of PCR, and a DNA template containing the gene to be mutated. As shown in Figure 1, where A and B are the flanking primers and M represents the primer carrying the desired mutation, the first round of PCR generates a fragment with the desired mutation introduced by using one of the flanking primers (A) and the mutant primer (M). This amplified fragmentthe megaprimeris used in the second PCR along with the remaining external primer (B) to amplify a longer region of the template DNA. The final product is purified and can be cloned into an appropriate vector. By designing flanking primers with universal restriction site sequences, compatible with the vector of choice, it is possible to create different mutant clones by changing only the mutant primer. Recently, this approach has been improved by the use of forward and reverse flanking primers with significantly different melting temperatures. This allows researchers to perform both PCR steps in a single tube (Ke and Madison 1997). Here, we describe the protocol adapted from Brons-Poulsen et al. (1998, 2002). This protocol has been successfully applied on templates with either low or high GC content to amplify megaprimers 71800 bp in length and final products ranging from 400 to 2500 bp. Moreover, the investigators were able to introduce single-base-pair mutations as well as 24-bp deletions and substitutions.

Save 30% & Get Free Shipping!*
Save 30% at checkout on our website.
(Limited time special offer.)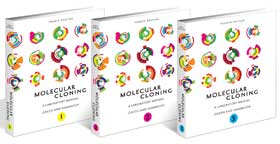 Search for information about other protocols included in the book:
Read What Others Are Saying About Molecular Cloning:
* Free shipping to individuals in U.S. and Canada only