Volume 1
Volume 2
Volume 3
Northern Hybridization
(Protocol summary only for purposes of this preview site)
RNA samples that have been transferred and fixed to a membrane (see Protocol 12, Alternative Protocol Capillary Transfer by Downward Flow in Protocol 12, or Protocol 13) may be hybridized with a specific probe to locate the RNA species of interest. Any one of a large number of methods can be used to label and detect probes, at the discretion of the investigator (see Chapter 13 for methods to prepare probes). After treating the membrane with blocking agents that suppress nonspecific absorption of the probe, the membrane is incubated under conditions that favor hybridization of the labeled probe to the immobilized target RNA. The membrane is then washed extensively to remove adventitiously bound probe and finally manipulated to yield an image of the distribution of the tightly bound probe on the membrane. After analysis of the results, the probe may be stripped from the membrane, and the membrane can then be used again in another hybridization experiment (see Step 8 in this protocol). Table 1 describes how to deal with factors that cause background interference in northern hybridization.

Save 30% & Get Free Shipping!*
Save 30% at checkout on our website.
(Limited time special offer.)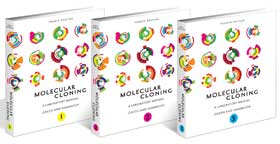 Search for information about other protocols included in the book:
Read What Others Are Saying About Molecular Cloning:
* Free shipping to individuals in U.S. and Canada only