Volume 1
Volume 2
Volume 3
Alkaline Agarose Gel Electrophoresis
(Protocol summary only for purposes of this preview site)
Alkaline agarose gels are run at high pH, which causes each thymine and guanine residue to lose a proton and thus prevents the formation of hydrogen bonds with their adenine and cytosine partners. The denatured DNA is maintained in a single-stranded state and migrates through an alkaline agarose gel as a function of its size (McDonell et al. 1977). Other denaturants such as formamide and urea do not work well because they cause the agarose to become rubbery.

Save 30% & Get Free Shipping!*
Save 30% at checkout on our website.
(Limited time special offer.)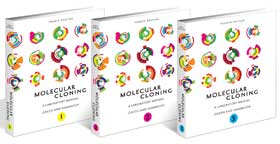 Search for information about other protocols included in the book:
Read What Others Are Saying About Molecular Cloning:
* Free shipping to individuals in U.S. and Canada only